TheDiecastGuide.com Presents The Vintage Hot Wheels Redline 31 Doozie
---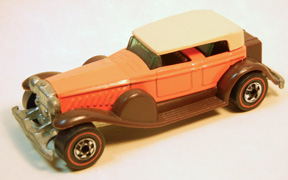 ---
Vintage Hot Wheels Redline 31 Doozie
Years of Production:
1977

Country of Origin:
Hong Kong Only

Casting Variations:
None known

Paint Colors and Variations:
Orange enamel

Interior Colors:
Brown Interior and fenders, tan plastic removable roof.

Comments:
Only one variation of the 1977 redline 31 Doozie is known. As a "transitional redline", use of the
casting continued into the basic wheel era and has many variations in later years.