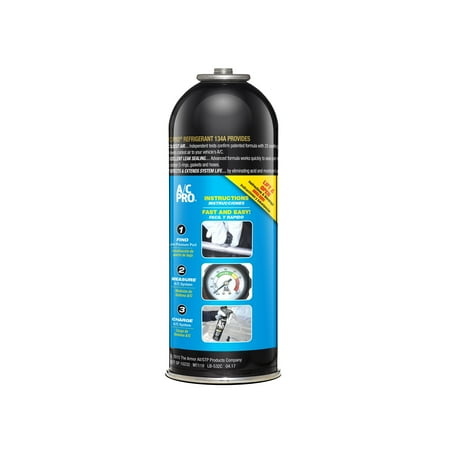 A/C Pro High Mileage Auto Air Conditioner Refrigerant, 134A, 12oz
Designed specifically to replace lost refrigerant to improve A/C cooling in high mileage vehicles (75,000+ miles).
Contains anti-wear additives to help extend the life of older or high-usage A/C systems.
Seals common automotive A/C leaks in hoses, O-rings and gaskets while conditioning seals.
Includes UV dye that glows to pinpoint A/C system leaks (UV light required).
Three easy steps to complete process.
Auto Pilen: A/C Pro High Mileage Auto Air Conditioner Refrigerant, 134A, 12oz
---
A/C Pro High Mileage Auto Air Conditioner Refrigerant, 134A, 12oz Price: $20.96 - $17.98
| | | |
| --- | --- | --- |