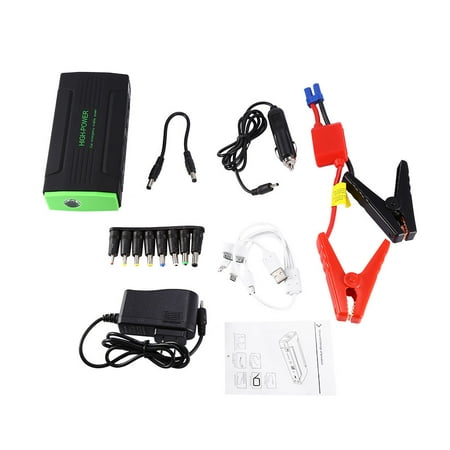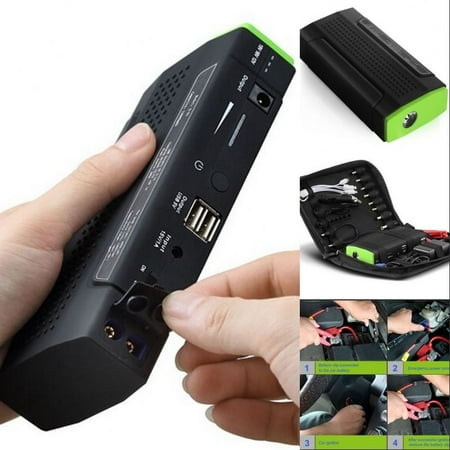 30000mAh Car Jump Starter,Multi-function Emergency 12V Battery Power Auto Start Power LED Power Bank USB Charger for Cellphone Tablet Laptop
Specifications:
LED illumination light
Power Bank Weght:390g
12V / 16V / 19V voltage output indicator lights
12V / 16V / 19V — 2A / 3A / 3.5A output
Electrical quantity indicator light.
USB 5V – 2A output
12V – 1A charge input
Starting current:200-300A
Peak Current:600A
Battery life:3000 circles
Model:JX-R02
Operating temperature:0-85
Master switch
How to use:
1.Select the appropriate voltage and connector for the electronic device to charge / power supply
2.Press the switch to start charging when your device connected with the power bank. If you unplug the cable, auto-sleep will start in one minute.
3.Five LED lights will flash circularly during the charging and all lights will keep bright when your device is full-charged.
4.During charging for your device, LED lights indicate the balance power of the built-in battery. Four lights indicate 80% balance, three lights indicate 60% balance, two lights indicate 40% balance and one light indicates 20% balance.The built-in battery is empty when all LED lights start to flash.
5.Store the product in a cool and dry place and away direct sunlight.
Package includes:
1×30000 mAh jump starter battery
1xCharge plug
1x 4 in 1 USB Charge Cable
1x Storage battery wire clip
1x Car charger adapter
1x Leather Carring bag
1x User manual
8x Laptop adapter
Auto Pilen: 30000mAh Car Jump Starter,Multi-function Emergency 12V Battery Power Auto Start Power LED Power Bank USB Charger for Cellphone Tablet Laptop
---
30000mAh Car Jump Starter,Multi-function Emergency 12V Battery Power Auto Start Power LED Power Bank USB Charger for Cellphone Tablet Laptop Price: $61.05 - $45.39
| | | |
| --- | --- | --- |